ADD AND ZOMBIES: Fearless Medication Management with ADD and ADHD

Everything You Always Wanted to Know About Medication Management for ADHD...
AVAILABLE IN PAPERBACK AND ON KINDLE

HARDCOVER LIBRARY EDITION
Release Date June 15, 2020

Wes Crenshaw and Kelsey Daugherty guide readers on medication management for ADD and ADHD using advice drawn from thousands of hours of clinical contact with hundreds of fascinating clients. Written in an engaging, conversational style for readers of all ages, the authors explore what it means to have ADD, describe how to get an accurate evaluation, examine co-occurring diagnoses and how they are treated in the context of ADD, and explain how to find a good prescriber. They compare and contrast the array of medications available to treat ADD, explain how to use them correctly, and help readers manage and work around the side effects. Crenshaw and Daugherty offer numerous case examples throughout the book to illustrate their integrative model of treatment designed to get readers with an ADD diagnosis on the road to fearless medication management.

* Have you been diagnosed with ADD or ADHD, or do you suspect you should be? Do you want to be sure you have an accurate diagnosis? Do you wonder if you're getting the best treatment? Do you have a love-hate relationship with your medication or wonder why it seems to have stopped working? This book is for you.

* Does your partner, child, roommate, or friend have ADD? Do you wonder if medication might be right for them, and if so, which one? Do you struggle alongside them to deal with the many side effects of their stimulant? Do you wonder about alternative treatments? This book is for you.

* Are you a physician, nurse practitioner, or physician's assistant? Do you wish you had broader training and experience in assessing and prescribing for ADD and ADHD? Do you sometimes feel like you're winging it? Do you wonder if this disorder is over- or underdiagnosed? Do you wish you could refer those cases out, but haven't anyone to refer them to? This book is for you.
I Have Feelings and That's O.K.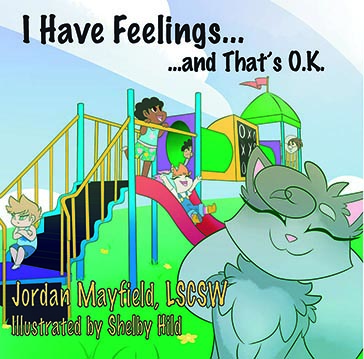 A Unique Book of Advice and Commentary for Parents of Teenagers...

...combining Dr. Wes Crenshaw's nineteen years of clinical experience as a board certified family psychologist with the natural wisdom and empathy of eight really sharp sixteen- to eighteen-year-olds, each of whom spent a year writing for the Double Take advice column. Though entertaining in tone, the book offers serious, honest and practical guidance to parents on real world adolescent issues: sex, contraception, pregnancy, sexual identity, mental health, cutting, falling in love, breaking up, friendship, divorce, the future, teen technology, parent-child conflict, suicide, foster care, school success and failure, fear and hope and many other issues in the middle and high school years. Most of the advice was written in response to letters sent by parents and teens to ask@dr.wes.com. The rest were written on topics selected by the authors based on teen trends and current events. In addition to specific suggestions on each problem, the authors share a thoughtful social commentary on how the world influences the next generation, and vice versa. Have teens read the companion volume: Dear Dr. Wes: Real Life Advice for Teens.
What Others Are Saying...
William Dodson, MD, ADHD Expert Prescriber and contributor to ADDitude Magazine

"Stimulants are among the most effective, safest, well-researched, and potentially tolerable medications in all of psychiatry—if you know what you are doing. Drs. Crenshaw and Daugherty give a master class in how to use them both conceptually and using real-world patient examples that make this sometimes esoteric information accessible to anyone seeking to know what they're getting themselves into and how to do it better."


Melissa Orlov, author The ADHD Effect on Marriage

Review to be supplied
Patrice Karst, Best selling author of The Invisible String, The Invisible String Workbook, The Invisible Leash, and The Invisible Web

"We all have feelings and it really is OK! The message of this book is simple and to the point. Yes, we can feel all of our "feels" and there are no right or wrong feelings. And so importantly, there are always solutions to whatever troubles us. Uplifting and comforting!"
Matthew Enyart, Director, Kansas Institute for Positive Behavior Support

"Just as children need to learn their numbers, colors, and shapes- they also need to learn their feelings! Using short, engaging narratives and inclusive, expressive illustrations, this beautiful book reinforces the importance of validating emotional experiences, while teaching children how to identify, understand, and process feelings. This book will benefit the child, care provider relationship, and contribute to a foundation for lifelong healthy emotional wellbeing."